How Alexis Took Her Launch From $49,750 to $185,550 In 4 Months…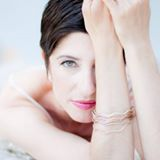 Before
Alexis had just finished her first ever product launch. She wanted the next one to be even bigger but didn't know how to make that happen.
Working with Ron
She discovered how to implement the "Excalibur Method" to bring in more customers and earn more from each sale.
After
Alexis landed 5,124 engaged subscribers and made $185,550 in revenue from her second launch. With this success, she feels she can now leave a meaningful legacy.
"I wanted to reach more artists…"
Alexis Fedor helps "starving" artists earn more money from their work.
In the fall of 2017, she launched her first online course. Fifty people bought it.
Although she was happy with the results, she knew many more people needed what she was teaching. As she says:
"I want to make a significant difference. My goal is to help 10,000 artists over the next 5 years."
She wanted her next launch to be twice as big. But she didn't know how to hit that goal.
"I didn't know how to run a launch. The first one did pretty well, but there were a lot of ins-and-outs I didn't know. I needed a coach to show me where the gaps were and how to fill them."
"I didn't know how to take that next step…"
Alexis didn't think she was ready for a high-level consultant. She felt like she needed to be further along for someone experienced to work with her.
But she was pleasantly surprised to find that wasn't the case.
"I met Ron in an event in October. I told him what I was doing, and he said "I see a lot of potential here. Why don't I work with you from now until May to help you with this launch?"
Alexis was excited to have someone who believed in her business. And felt relieved to have a guide who would help her reach the next level.
She immediately jumped at the chance to work with him.
"Ron had so much experience and credibility that I knew it was a good fit."
"Everything changed so fast…"
Alexis and Ron talked on the phone every two weeks for four months.
They went over the launch strategy. Specifically, how she could build her list, increase engagement, and ramp up profits using Ron's Excalibur Method.
One of the first things they did was use his "affiliate army" strategy to get people to promote her.
"I didn't think I was ready for affiliates since it was my second launch. But I didn't have a lot of money to spend on ads.

So Ron said  'Why don't you reach out to 200 potential affiliates'. I did that within 2 weeks. 30 of them confirmed. And all but three had never met me before."
Once she had the affiliates, Ron taught her how to get them to promote her.
He helped her put together all the resources they needed. So it would be easy for them to tell their list about her. This included swipe copy, training videos, frequently asked questions and more.
Then, he taught her how to use challenges and prizes to keep affiliates motivated. And make sure they promoted her to their lists.
"It was uncomfortable at first saying 'We're having a contest and this person is number one and this person is on your heels.' But the affiliates responded well and were super engaged."
"The engagement was off the charts!"
With the affiliates sending leads, Alexis had to show her new audience who she was and what she was about.
So Ron had Alexis create a "brainwashing" sequence.
These were a series of videos that go live before any pre-launch content.
They gave her a chance to connect with her audience. And build excitement for the upcoming training videos.
The results from this sequence blew Alexis away.
"The engagement was off the charts. I began getting over 300 comments a day. I couldn't keep up."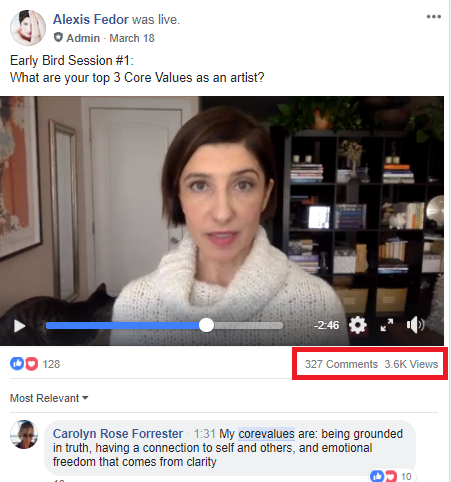 Alexis' video got 327 comments.
Once the audience was warmed up, Alexis sent them through a 3-part video training series. This was a new-and-improved version of what she did before.
"Before the launch, Ron helped me hone in on their biggest challenges. Using that, we refined the training videos. We rewrote the scripts and made sure it hit all the points I wanted to hit."
The momentum carried on through the entire pre-launch sequence.
There was so much excitement Alexis decided to offer the course earlier than she planned.
"I couldn't believe the level of engagement. We ended up opening the cart early because the momentum was so great I didn't want to wait."
"We blew the 'starving artist' myth out of the water…"
Opening the cart meant Alexis had to come face-to-face with the scariest part of her journey.
At Ron's insistence, she nearly doubled the price of her course. And was now charging $1,995.
On top of that, she added a $5,000 VIP option.
She was afraid nobody would buy at these price points.
After all, her audience is artists struggling to make money.
But Ron helped her overcome those doubts.
"My biggest challenge was charging $2,000 to artists who don't have money. Even though I knew my course was going to fix that. I wasn't convinced anybody else was going to buy it.

I kept doubting myself, saying "Is this the right move? Can I do this?" 

Ron gave me the confidence I could do it."
"It was positive from start to finish."
When the dust settled, Alexis's email list had shot from 2,498 to 7,549 "super-engaged" subscribers.
She sold 90 units — almost twice as many as her previous launch. And she nearly tripled her revenue, earning $185,550.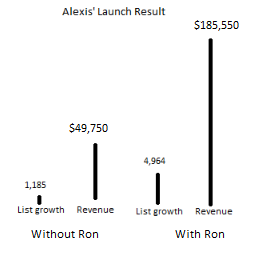 Alexis more than doubled her list and revenue from her launches.
Now that she's expanded her reach, she's excited to focus on how to serve her current customers even better.
She's already helping them earn more and make a steady income. So her next step is to teach them to create systems so they can sustain their success long-term — which she can't wait to do.
"This is my sweet spot. This is the thing I can help them get real results with. I'm excited to dig in and give it to them."
Carrying on her father's legacy
Alexis knew that if the launch wasn't successful, she would have to go back to one-on-one client work.
This would severely limit the impact she could make.
For Alexis, it's important to help as many artists as possible.
It's not about the money — it's about carrying on her father's legacy. And fulfilling a deeper mission that's been buried inside her ever since she was a teenager.
More than a massive launch…
Alexis is still working with Ron.
They're now implementing his Genius Profit System to grow her business in other ways.
Blockbuster launches are one piece of this system. And they're continuing to improve that area.
But they are also looking to install evergreen and high-ticket offers into her business. So Alexis can explode her profits and keep a steady revenue stream.
Overall, Alexis has been thrilled with the experience.
"The biggest surprise is how knowledgeable and passionate Ron is about helping people create businesses that make a difference in the world. I consider him the best-kept secret."
If you're on the fence about getting this type of coaching, Alexis has a special message for you:
Need a coach to take your business to the next level?
You can get similar coaching inside the A-Players Membership program.
This is a 6-month coaching package that includes an in-person mastermind.
Ron will show how you can apply both the Excalibur Method and the Genius Profit System to your business. So you can double or triple revenue this year.
Industry leaders like Todd Herman, Ryan Levesque, and Hay House Publishing have all worked with Ron. And have had record-breaking launches following his advice.
The program starts soon and space is limited.
Click below to apply.