Get My FREE Book To Make Sure You're A Victor – And Not A Victim –In The Coaching Gold Rush…
From the Desk of Ron Reich
The Most Connected Man In The Coaching World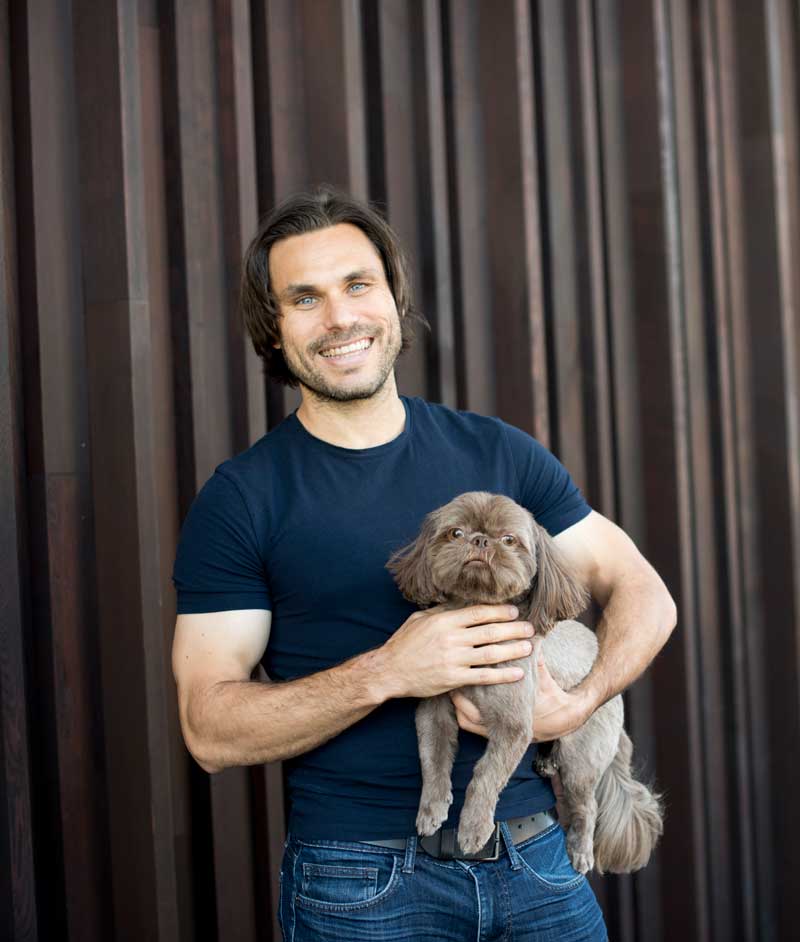 "It was the best of times, it was the worst of times." – Charles Dickens wrote those  words over 150 years ago.
And while he was talking about London and Paris during the French Revolution, he might as well have been talking about the coaching industry.
I truly believe that right now is the best time in human history to build a business as a coach or expert.
It's also the best time ever to join a coaching program.
The right program can really help accelerate your progress more than any other investment you can make in your business.
The facts back this up:
According to Forbes, the coaching industry is currently a $1 billion+ industry and is growing year after year.
The rise of the freelancer and the "gig economy" is happening before our very eyes, with new people entering the self-employment market every single day.
More people than ever are getting their incomes to $25,000, even $100,000 per MONTH in less than a year.
Back when I was starting out $10,000 per month was the "holy grail."
Now that's a "just getting started" number.
There's definitely a lot of opportunity to make big money as a coach or consultant right now.
And it's precisely because of this opportunity that we need to extra careful as to who we give our money to if we're looking for help to grow our business. Quite frankly:
There Are A Lot Of Charlatans Out There!
Many smart marketers have seen the opportunity of the coaching Gold Rush and have entered it in full force.  
If you recall, the people who profited the most from the real California Gold Rush of 1849 where the ones who sold the shovels, not the ones who actually struck gold.
And these days, there are a lot of "shovel sellers" in the coaching industry….
There are a lot of "coaches coaching coaches who coach other coaches."
Nothing inherently wrong with that.  
In fact, *I* make a large part of my living being a coach who coaches other coaches.
And I even have quite a few clients who coach other coaches so I'm pretty high on top of that pyramid haha.
In addition to myself, there are quite a few coaches who help other coaches and experts grow their businesses who are really good at what they do.
But there are a lot of phonies and thieves out there who just want to take your money.
These people care a lot more about you giving them $10,000, $20,000, even $100,000+ than they do about actually helping you get the results they promised.
And unfortunately, we're still in the "wild west" days of the coaching industry and there are no good, unbiased sources that will tell you what coaching programs are worth investing in and which ones are a rip off.
There is not Consumer Reports for High End Coaching Programs.  
Until now.
Introducing…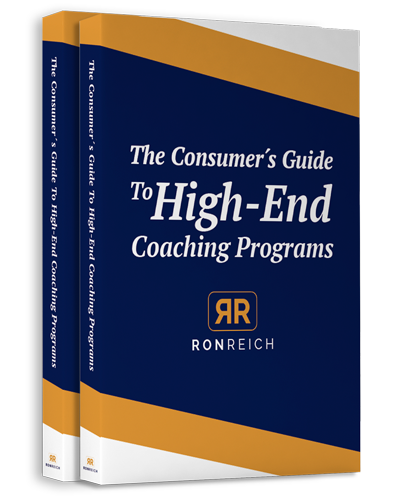 The Consumer's Guide To High End Coaching Programs!
The Consumer's Guide To High End Coaching Programs is my BRAND NEW book which will show you exactly how to find the perfect coaching program for you specific needs and goals.
As someone who has been marketing online since 2006 and who joined my first high end coaching program in 2007…
In addition to running my own programs since 2008 as well as helping numerous people build and grow their own high end coaching programs, I've seen it all when it comes to high end coaching programs.
I know exactly what works and what doesn't work when it comes to getting client results.
Part of my job also consists of doing extensive research, following the industry, and paying attention to what others are doing in their programs.
And what I've done is taken the most important aspects of what I know that make a high-end program effective and cross-referenced that information with what is going on in the coaching industry right now to create what I believe is the ULTIMATE guide for anyone thinking of joining a high end coaching program.
Here's A Brief Sample Of What You'll Discover In My Brand New Insider's Guide To Coaching Programs…
The behind-the-scenes truth about how many coaching companies run their businesses. Hint: they do NOT have your best interest in mind most of the time…
Get the inside scoop about how many companies really price their programs. Would you be surprised that many of them price their programs without thinking AT ALL about what's good for the client? I wouldn't…
Plus, you'll learn about the Top 3% Factor for assessing high end programs that most people never think about. This one alone can give you a HUGE advantage over your competition…
Not all group program are created equal! Discover the 3 different type of programs so you can find the right one that fits your needs and schedule…
How to master the "ROI Equation." Find out 2 ways that will practically GUARANTEE you get massive ROI from the coaching program you choose…
BONUS: group programs are NOT the only kinds of programs available. Find out about three other type of coaching programs that can really accelerate your progress. And more importantly, how to know when you're ready for them.
The goal of this book is to make you a completely informed consumer when it comes to high end coaching programs.
Therefore, I'm going to show you exactly how to access the various programs available so you can make a life-changing (in a good way!) decision.
You're also going to discover…
My #1 Move" I use when assessing what coach to hire. This single tactic has made me well over a quarter million dollars… and importantly, saved me from wasting my time with the wrong coach…
Discover the 7 critical factors to keep in mind when choosing a high-end coaching program. Ignore these at your own peril…
A complete breakdown of the most common pricing structures for high-end coaching programs. This information will make sure you don't get "sticker shock" when you hear the price of the program you're interested in joining…
Are you doing less than $500,000 per year in revenue? If yes, then you'll definitely want know about the single biggest factor for choosing a high end program when you're at that level…
My multi-pronged approach for analyzing the the person leading the program you're considering. Most people don't look at ANY of these factors, which is one reason we have so many High End Horror Stories…
Find out the best ways to research a high-end coaching program to see if it's really getting great results for its clients…
The truth about working with sub-coaches. Believe it or not, "sub-coach" is not necessarily a dirty word. You just need to keep in mind certain critical factors in assessing your potential sub-coach that you'll discover in this Guide.
Not only that, I've already done a lot of the work FOR you as the book contains…
My List Of The Top 7 "A-Player Approved" Coaching Programs!

These programs have all been carefully vetted and get epic results for their clients. You're going to discover…
The BEST program on earth that will really help you get out of your comfort zone and (finally) take massive action on your most important business goals…
Struggling to get your online business up and running but still have a job? You'll get an inside look at the perfect program for your exact situation…
On the other hand, if you're already doing high six figures or more then I have just the program for that will put you on the path to an eight figure business…
Finally! A reasonably-priced program geared towards emerging female coaches that actually delivers! This one is responsible for helping more female coaches generate their first six figures in revenue than any other program I know of…
Looking to be surrounding by 7-Figure+ Players? Find out about the best high-end mastermind out there in my opinion…
My #1 favorite type of group coaching program. This format has by far the highest success rate among group programs.
This book contains information that took me well over a decade to compile.
I'm excited to give it all to you today, completely free of charge. So there's a good chance you my now be wondering…
Why Am I Giving You This Book For Free?
Great question.
I strongly believe that this book contains some of the most valuable information you will read all year.
Not only will it help you save literally tens of thousands of dollars by telling you what programs to avoid, but it will help you choose the right program to join.
Many people (including myself) have considered their investment in the right coaching program to be THE best investment they've ever made in their life.
It's not uncommon for someone to invest $5,000, $10,000, or even $25,000 in a coaching program and end up with a 10X even 100X return on their investment.
For example, I once joined a 90-day program that cost $5,000.
I ended up generating over $100,000 in 90-days as a result of that program.
That was a 20X ROI on my investment in 90 days. There's nothing else on earth that is going to give you that kind of ROI.
Not the stock market, not real estate, not even investing in advertising where 5X return on ad spend is considered to be so good that it rarely happens.
So I have no problem looking you straight in the eye and telling you that the information in this book is worth tens of thousands of dollars.
But as I said in this letter, you're getting the book completely FREE.
All I ask is that you cover my shipping costs, which are $7.95 in the United States and $14.95 international.
So why am I shipping this book to you for free?
There are three main reasons for this:
Reason #1: I genuinely want to help you make an informed decision for your business and career.
I genuinely want to help you make an informed decision for your business and career.
I believe strongly is the transformative power of coaching.
I know I would NOT be where I am today if I did not work with the right coaches. It's something that I began doing early in my career and it's something I'm going to continue to do.
And I believe that working with the right coach can have a transformative effect for you as well.
I truly want this for for you.
Your transformation is not only going to make your life much better, it's going to have a lasting impact on followers, friends, and family as well.
Working with the right coach has a true ripple effect.
I want create as many of these ripple effects as possible and getting this book into your hands will help me do that.
Reason #2: I truly love this industry and don't want to see it come crashing down
We're at a very fragile time right now in the coaching industry.
Essentially, many of the shady Coaching Factories that only care about making money and are not actually getting their clients results are spoiling it for everyone. One bad apple ruins the bunch and all that.
The way we can preserve our valued industry and make sure it remains a force for good in the world is to get rid of these bad apples.
You can help do this by being an informed consumer and not joining these rip off programs.
This Guide will arm you with the insights you need to make that informed decisions.
Reason #3: I may to try to sell you something more expensive later.
Just being honest here 🙂
The thing the lights me up the most is being able to make an impact on people with my writing. At the same time, Mark Twain famously stated that "No one but a blockhead writes but for money."
Therefore, one of the aims of this book is for you to read it, LOVE it, and then considering working with me on a deeper level in the future. Although, I'll let you know in advance that my other services are NOT for everyone and working with me is by application only.
Regardless of whether we ever work together or not, rest assured that the Consumer's Guide To High End Coaching Programs is complete in and of itself.
It will show you exactly what to look for in the right high end program and how to go out finding that program.
And you can get this book absolutely FREE of charge (just pay shipping) by clicking on the link below:
But Wait… There's More! Order Right Now And Get Three FREE Bonus Gifts That Will Skyrocket Your Coaching Profits…
Because I really want you to read this book and have it positively impact your life, I'm adding three special gifts to make ordering your copy today a complete no brainer for you. They are:
Bonus #1: A Special "How To Build A 7-Figure Coaching Business in 2019" Workshop
If you order your FREE copy of the Consumer's Guide To High End Coaching Programs now, you'll be invited to a special upcoming live workshop on the topic of "How To Build A 7-Figure Coaching Business in 2019."
In this special workshop, I'm going to break down various 7-figure coaching models and show you step-by-step how to create your own 7-figure growth plan.
You're going to discover exact what to do do – and the more importantly – the exact order to do it in this workshop. Believe me when I tell you that you will NOT find this information anywhere else.
SPECIAL REPORT: The Truth About The Upcoming "Coaching Crisis" (And What To Do About It)
As I alluded to at the beginning of this letter, times are definitely changing fast in the coaching industry.
Right now we're at the tail end of the Coaching Gold Rush and it looks like a Coaching Crisis is upon us. But as a wise man once said:
"One man's problem is another man's opportunity."
So the question is: how can you make sure you're prepared to thrive during this upcoming Coaching Crisis and take advantage of the opportunities it's going to uncover?
The answer to this question is found is this special report I made for you.
In it, you'll see exactly why we're headed for a crisis as well and the one critical shift you must make in your coaching business that will make sure your business continues to grow while in the eye of the storm.
Bonus #3: The Top 10 Books Every Coach MUST Read
If there's one "secret" to growing a successful online business it's this: your business will only develop at the rate you develop. That's why you must constantly be upleveling everything you do.
This includes: your business skills, your coaching skills, your knowledge of the industry (including keeping up with the latest trends, and your mindset).
It may come as no surprise to you that one of the best ways to do this is to read.
A lot.
The most successful entrepreneurs I know are always reading. I spend a lot of time reading myself. In fact, I typically go through 85 to 100 books a year and I've been on this schedule for this past ten years.
So as you can imagine, I've read A LOT of books!
I spent time reviewing all of the relevant books I've read in the past 10 years for coaches and experts and compiled a list of what I believe are the top 10 books every coach MUST read.
These are the gems: the best of the best of the the best of the best.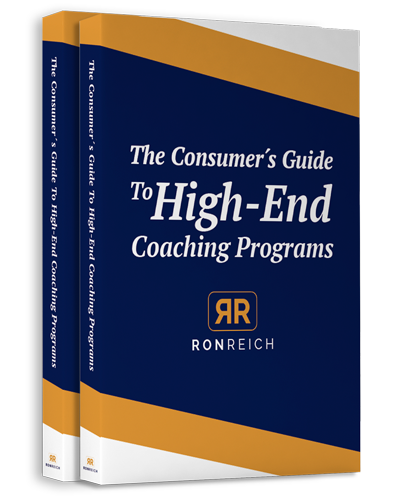 You'll get this special list as another FREE gift from me to you if you order your copy of the 
Consumer's Guide To High End Coaching Programs

 today!
To review, for a limited time you can get a FREE copy of my brand new Consumer's Guide To High End Coaching Programs.
I'll I ask is that you take care of a modest shipping charge.
This book contains my over 10 years of experience running coaching programs, designing them, participating in them, helping clients with them, and obsessively following the industry.
In it, you'll discover exactly how to find the perfect program for you AND get many incredible insights that will help you design and run your own coaching programs.
You also get three free bonus gifts:
Free Gift #1:
How To Build A 7-Figure Coaching Business In 2019 (Special Workshop)
Free Gift #2:
SPECIAL REPORT: The Truth About The Upcoming "Coaching Crisis" (And What To Do About It)
Free Gift #3:
The Top 10 Books Every Coach MUST Read
To get access to all of this completely free of charge, all you need to do is click on the button below to get started.
You'll then be taken to a shopping cart page. Just fill in your information on that page, press "submit" and your book will be on the way. Click the button below now:
Why Am I Giving You This Book For Free
In closing, I'd like to remind you of one thing:
12 months from now the coaching industry is going to divided up into two categories: the winners and the losers.
The winners will be the top 20% who made the right decisions and took the right actions.
There will also be the top 5%.
These will be the SUPER winners.
The SUPER winners are the ones who took even more action based on the right information. These are the people who know how to exploit just a slight advantage.
The Consumer's Guide To High End Coaching Programs contains the exact information that will give you much more than a slight advantage over your competition.
It will give you what Robin Sharma calls a Gargantuan Advantage that can catapult you into the top 5%… even the top 1% of your industry.
Do you have the courage to step up and be in that top 5%?
To be one of the SUPER winners?
If yes, then prove it to yourself by taking action now by clicking on the button below to get started. Here is it again:
I can't wait to hear about your success!
Ron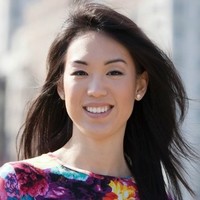 "Ron helped with my big picture strategy. Now I have a clear plan for my business. I'm not just scrambling to make money. We were at $150,000 in sales when I went to sleep Monday. Then I woke up Tuesday and saw all these sales came through.
We hit $300,000 by the second day of cart-open. When I saw that, I sat down and cried.
All the fear I had that people didn't like launches, didn't like my program, and that my audience was tired of me went away."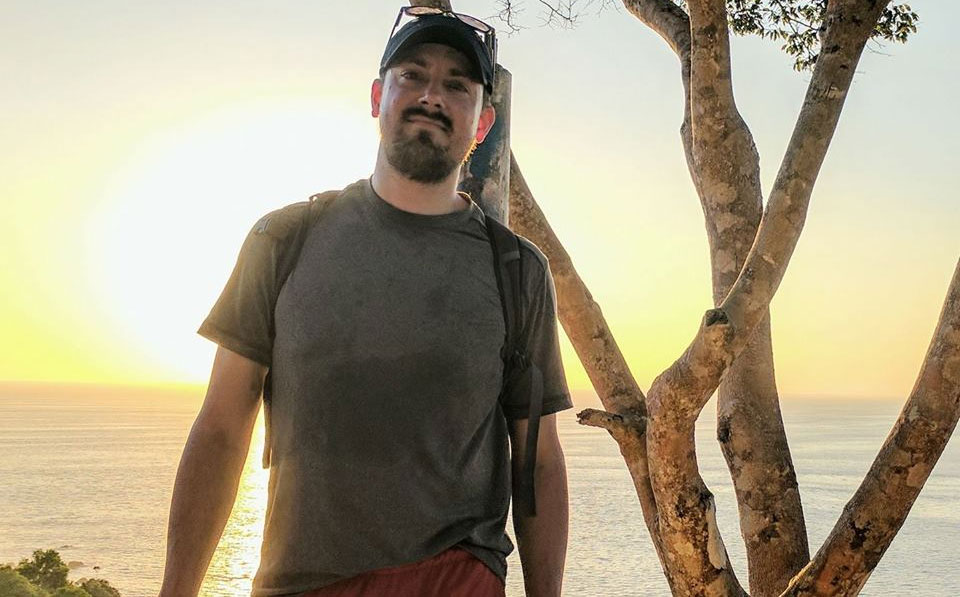 Ron helped Phil systemize his offer. Phil implemented the pre-registration process into his wife's business.
The results blew them both away. The vast majority of the leads he brought in became customers.
Over the course of a year, Janice's already-successful practice grew by 40%! And that was just the start. Now that they had "cracked the code."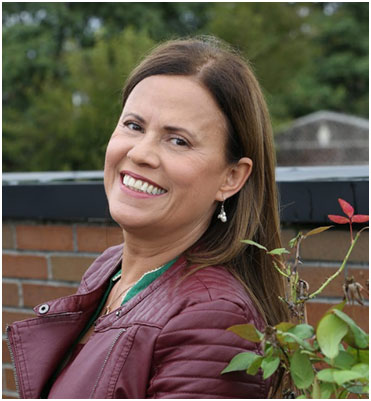 "I kept doing the same thing, but it wasn't working. My family couldn't live off what I was making. And I had a responsibility to support my staff who has been with me all these years.
He'd say "let me hook you up with this person. Then he showed me how to talk to affiliates, keep them engaged, and get them to mail for me. He has a whole process for that."
Selena Soo
Creator of Impacting Millons
"Almost a 7-Figure Launch!"
Ryan Levesque
Creator of the Ask Method
"A secret weapon of mine for many years!"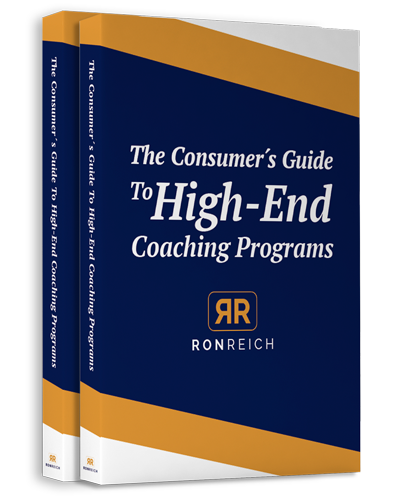 P.S. Remember, when you order today you're getting the brand new Consumer's Guide To High End Coaching Programs  completely FREE of charge (just pay shipping). Not only that, you're getting three incredible bonus gifts as well:
Free Gift #1:
How To Build A 7-Figure Coaching Business In 2019 (Special Workshop)
Free Gift #2:
SPECIAL REPORT: The Truth About The Upcoming "Coaching Crisis" (And What To Do About It)
Free Gift #3:
The Top 10 Books Every Coach MUST Read
So don't delay. Order today but clicking on the link below: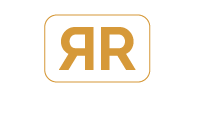 Copyright © 2019 All righs reserved.