How Selena Soo Used the "Excalibur Method" to Have Her First Million-Dollar Launch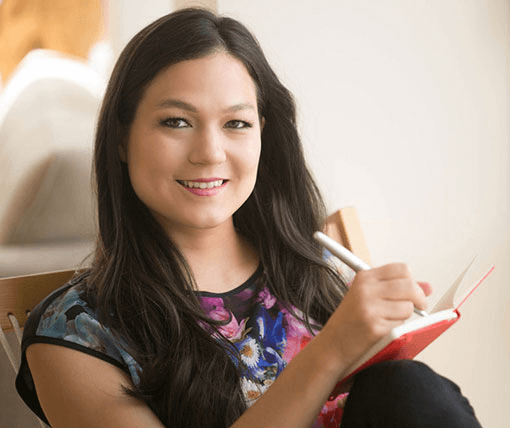 Before
Selena wanted to take her high 6-figure business to the next level with a 7-figure launch.
Working with Ron
She learned how to use the "Excalibur Method" to build an army of 170 affiliates and uplevel her launch sequence.
After
Selena added tens of thousands of new subscribers and made 7-figures from her launch. Now she's able to impact even more people with her message.
"I was feeling overwhelmed in my business…"
Selena is a publicity coach and strategist at Selenasoo.com. She built a multiple-6-figure business helping people get publicity. And she wanted to push herself to a higher level. Her goal was to do a 7-figure launch for her new online course Impacting Millions. It wasn't about the money. It was about expanding her reach and fulfilling her potential. But she didn't know how to do it. As she says:
"I had a big vision of doing a 7-figure launch but was paralyzed on how to get there.

People talk about evergreen funnels and challenges and being active on Instagram. There were so many options. I knew I had to do something different, but I didn't know what."
Selena shares the challenges she faced in her business.
Selena had already done solid launches that made multiple 6-figures. But she knew what got her here wouldn't take her to the next level. Instead of wasting time figuring it all out herself, she wanted to a mentor who could help her hit 7-figures. Someone with experience who knew the launch strategies that were working now. And which ones would work best for her. After meeting Ron at a mastermind and getting to know him, she decided he was that mentor.
"Ron has been hands-on with several dozen launches. So he can speak with lots of experience. His advice isn't just theory. It's proven and tested."
The two of them began meeting on monthly calls. They mapped out a plan for Selena to break through the 7-figure mark. Part of this was to use Ron's Excalibur method. This is a launch system he developed that helped industry leaders like Todd Herman and Ryan Levesque have multiple 7-figure launches. The two parts of the system that scared Selena the most also turned out to have the greatest impact…
"We built an army of affiliates"
Selena and Ron decided she would need affiliates for this launch. But she couldn't rely on the same 7 she had used in the past. If she was going to go big, she needed to expand her network and get new people to promote her. But she didn't know how to do it.
"I didn't know how to reach out to people who didn't know me and get them to say yes."
With Ron's guidance, Selena began to reach out to influencers — including several big names she admired. She knew many of them would be in Las Vegas at the same time. So she hosted an event where she would talk about the work she was doing.
"I was nervous about speaking on stage in front of all these people. I kept thinking "Selena, you're going to make a fool of yourself."
She didn't want people to feel like she invited them there just to pitch them. So Ron suggested a unique way to get them to support her launch.
"At the end of the presentation, I let everyone know that if they were interested in being a part of my launch, I'd be at dinner 30 minutes early to talk more about it.

So rather than doing cold pitch, we made it more of a social thing. That worked really well."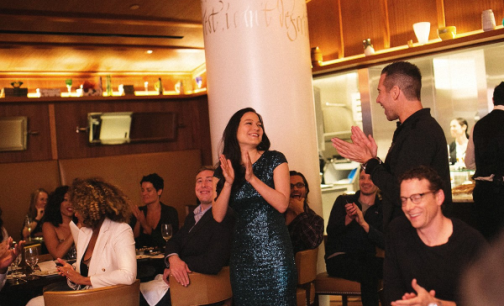 Using this strategy, as well as a few others, Selena ended up with 170 affiliates for her launch.
Of course, getting affiliates onboard is one thing. Getting them to promote her launch is another. But Ron's Excalibur Method helped her with that. Here's how:
"We created excitement and competition among the affiliates…"
Ron showed Selena how to stay in touch with partners. She sent regular emails months before the launch to keep them engaged and ready. As the launch drew closer, he had Selena create contests and give prizes to affiliates who hit certain milestones. This kept them motivated throughout the launch. But that wasn't all…
"We did an affiliate training webinar. Then Ron got in the Facebook group and did a live stream to help them come up with their bonuses. During the last 48 hours, he did another one to help people go into "beast mode.

It was great to have someone else pushing affiliates from all different angles."
"I reached a new level of impact"
Selena's affiliates sent her tens of thousands of new subscribers. But she needed a way to connect and build trust with these people fast. This meant doing something she had avoided her entire career: shoot a pre-launch video training series.
"I was proud to have done multi-6-figure launches without ever doing a video series. But I knew I needed to build that know, like, and trust factor quickly. And these videos would help with that."
Ron gave Selena proven scripts to use in these videos. And he oversaw the process to make sure everything would work. The response to the videos blew Selena away.
"I saw hundreds of comments under the videos thanking me. I felt I reached a new level in of impact in my business"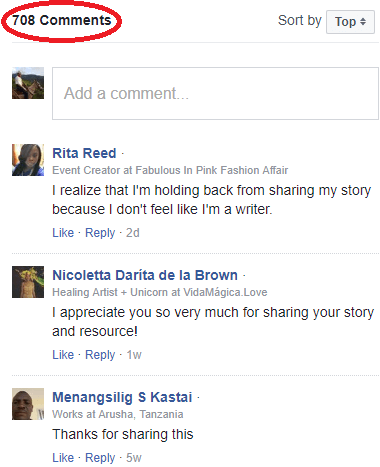 Selena's pre-launch videos got over 700 positive comments.
"Leave it all on the battlefield…"
Selena's launch was off to a great start. Her affiliates were promoting her and people were going crazy for her content. But she was still scared. She didn't want to do all this work only to fall short of her goal. So she kept going back to Ron for new ideas on how to ramp up engagement and sales.
"Every time I go to Ron he comes up with mind-blowing solutions. He gives me so much clarity. I always think he's going to run out of ideas, but he never does. It's insane."
One idea was to hire a sales team. Which Selena did. This extra layer of personal touch helped her close more sales. Another idea Ron gave her was to do a Facebook Live stream. She invited 10 experts in the online business world to share their knowledge one at a time. Then she did a live Q and A session with her audience.
"I did a 6-hour livestream on Facebook.

At first, I thought "is that necessary?" But Ron said to 'leave it all on the battlefield'. It turned out to be energizing. It engaged people, and I was glad I did it."

Selena's live stream got 3,700 views.
"I doubled my list and made 7-figures"
After the doors closed on her launch, Selena realized she had doubled her email list. She already had tens of thousands of people on it. So this was a significant increase. She also hit her goal of a 7-figure launch. Which was twice as big as anything she had done before. But it wasn't about the money. It was about pushing herself to grow as a person and entrepreneur. It also let her fulfill her mission of making a greater impact.
"The people I support are looking to impact others. To help these people who want to make a big difference is energizing and fulfilling."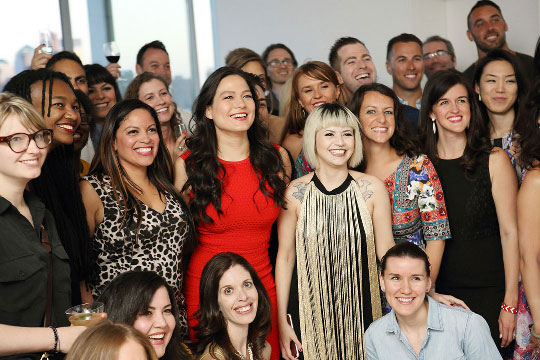 Now that she scaled her reach and revenue, Selena is focused on finding new ways to serve her customers. She's working on new programs to help them hit even higher levels.
"After people take the course they want next that thing. So we're adding new features to our products and working on what we can offer next."
The two thing she wish she did differently With one 7-figure launch under her belt, Selena is excited to make the next one even bigger. Because she now has a proven system that works. So she can repeat this success even while doing less the next time.
"Ron advised me to make my launch shorter, but I didn't. Next year I will though. It takes a lot of stamina to do a launch for a full month."
She also realized she could have had this success sooner had she got help earlier.
"Ron is the real deal. There's a reason Hay House and Todd Herman work with him. He gets amazing results. I should have hired him sooner."
Want to work with Ron?
You can now get similar guidance from Ron inside his A-Players Membership program. It's a 6-month coaching package that includes an in-person mastermind. If you want to double or triple revenue with your next launch… Explode profits through high-ticket and continuity programs…And create a strategic plan for long-term growth… Then click the link below. There are only 20 spots available. It starts up soon. So click below now to apply and see if the A-Players Membership is right for you.